September 2022
David Johnson
For many years, the current CEO of the Community-based Wireless Network in Ocean View, and a long time resident of the area, has spoken about the need for a community currency. In an interview in 2017, he spoke about the challenge of 90% of the economy leaving Ocean View and not getting spent on local goods and services and mentioned the need for a community currency and a locally-owned and run wireless network.
Fast forward to 2022, and finally these dreams are becoming a reality. A wireless network with 20 WiFi hotspots has been running for a number of years now, and in September 2022, a blockchain-based digital community inclusion currency, called Krone (KRN) was launched in Ocean View.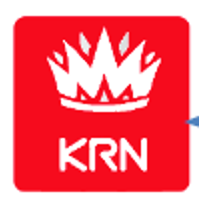 The community currency functions as a mutual credit system which emphasizes the importance of balanced exchange over the importance of property owners or rent seekers. When every credit is matched by an equal and opposite debt, supply equals demand a priori, and no effort is required to maintain economic equilibrium. In order to avoid the notion that Krone is money or currency, we will be calling Krone a community voucher; the vouchers are effectively a production loan against future value, not unlike a shopping voucher that is supported by multiple retailers in the shopping centre.
Interested parties in the community carry out resource mapping in a workshop and community members who want to join the community voucher commit their mutualized services in order to get issued vouchers backed by the service or goods they offer. They effectively build a mutual credit system, where the credit risk is shared amongst all members who commit to receive vouchers for goods/services. Vouchers are then spent and received and redeemed against various goods and services offered by the enterprises in the community.
We invited members of the community in Ocean View that sell goods or provide services in the community to attend the launch of the Krone community voucher in September 2022. This is an initial small group of alpha testers of the system. In this group we have a wide range of businesses including. Internet services, local digital services, car wash services, a community food garden, babysitting services, painting services and a business manufacturing essential oil products.

The system currently runs on USSD on mobile phones and a user registers a blockchain-based wallet to receive or spend Krone by dialing a USSD code and being presented with a menu.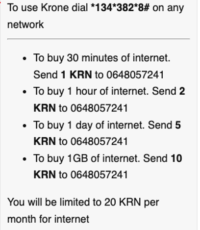 The menu below shows an interaction to purchase 30 minutes of internet.
The confirmation that Krone were sent to the owner's phone as well as the internet coupon are sent back to the user via SMS.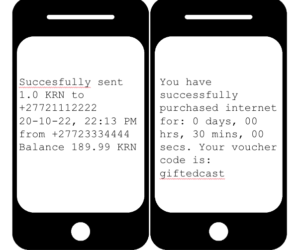 Once a user receives an internet coupon they can login to the internet with this coupon on the WiFi splash page.
Users will be able to trade in physical goods and services with the Krone voucher as well as a number of digital services, including internet access (just described), local storage and backup for their phones on the local iNethi cloud system as well as an iNethi radio service over WiFi, launching soon, that will provide rewards in Krone for local content and receive Krone for advertising services. The Voucher has built in demurrage, where the tokens slowly expire (approximately 0.1% per month) to prevent hauding tokens. The expired fraction of the tokens goes back into a community fund and can be reissued to new or existing traders or used for services or infrastructure that serves a common good purpose in the community such as maintenance of the server or radios.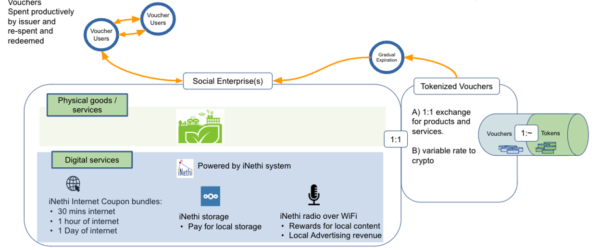 Internet access acts as an excellent anchor of value for the community voucher, but the community network has upstream costs that need to be paid for in fiat such as the upstream ISP costs. As a result, the community network has set a limit of 20 KRN (1 KRN is 30 minutes of internet) per month per person for internet coupons. This can be adjusted as more businesses support Krone. In addition, antenna hosts will be rewarded for maintaining the infrastructure (providing reliable power and ensuring they are secure from theft) with 200 KRN per month. They will have a reciprocal agreement with the community network and can spend up to the amount they received on internet coupons if they wish ( 200 KRN is equivalent to a 300 GB internet coupon). They may also choose to spend a portion of their KRN allocation per month on internet access and the balance on other services offering KRN such as the organic food garden, a car wash etc.
General users can also bulk purchase KRN vouchers with cash and there will be an incentive to purchase in bulk (supporting local businesses in Ocean View) by offering discounts. For example you will be able to purchase 100 KRN for R90 even though you get R100 value of goods and services in the community if you had purchased these with cash.
The system is also running in Kilifi Kenya and users can currently buy internet coupons with Sarafu (the local community voucher available in Kenya). Staff and visitors at Grassroots Economics Offices and Boda Boda drivers (motorbike taxis) in Kilifi have been using the system for 2 months now. Boda Boda drivers, that park outside the office and can pick up the iNethi WiFi, are offering rides for Sarafu and in turn can use Sarafu to buy internet access. Using anonymized data, we can see that so far between 1 September and 26 October, 2022, 233 internet vouchers have been purchased with Sarafu by 41 unique users.
The internet management system, RadiusDesk, also allows you to see the amount of traffic being consumed each day by the internet vouchers that were purchased. This traffic is exclusively from Internet coupons bought with Sarafu.
The journey bridging community vouchers to community networks has only just begun. We believe that more users will embrace Krone over the coming months in Ocean View as they realize they have valuable goods and services to offer to the community and in turn can make use of a network of these valuable goods and services, even when they run out of cash. In Kilifi, Kenya, as the Wifi network spreads, more Kenyans will get access to affordable voucher-based internet and locally relevant fast high-value digital services on iNethi. Interestingly nobody will even know that they are using a private blockchain wallet when they register their Krone wallet on their phone with all the benefits offered, such as immutability and decentralization, but without all the volatility of public permissionless blockchains such as Bitcoin and Dogecoin.